My Story

Margret Warren's (nee Mills)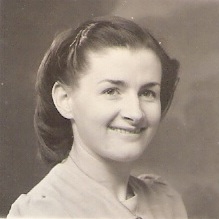 I hope you all have access to May Mills' book "Millbrae & its Founding Family" and Joan Jenkins book "From Whence We Inherit".

You will know that Richard Mills & Barbara Hogg had privileged up bringings. After their schooling was finished, Richard attended Roseworthy College and won a scholarship from there to attend School of Mines and Barbara went as a day student to Miss Thornbers "School for Young Ladies" at Thornber Street, Unley. Richard returned to Millbrae, Barbara was Governess to two different families. One I can't remember but Lillicraps at Eden Valley was the other.
In 1909, Richard and his father travelled in a camel drawn buggy throughout Jervois County seeking property. They finally settled on an area in the County of Hawker, Carpa.
Dick and Barbara were married in February 1911 and from then until 1919 lived there. 5 Children were added to the family – Ric, Doug, Bill, Joan & Jack. I once said to mum (Barbara) 'They must have been hard years', to which she replied, "Not at all. They were great years – we were young, we had enough food, clothing and the children were happy. I had my husband at home whereas families all over the world were without husband and father." Of course 1914 – 19 were war years – both Dick & Barbara had 3 brothers serving with the army – Barbara's brothers returned – Dicks brothers Jack and Tom did not survive the war and Alec had a bullet pass through his shoulder and spent many months in hospital in England.
To return to Dick & Barbara at Carpa. Dick was a grazier not a farmer but one of his neighbours was, and his fallowed paddocks drifted so badly that Dick's farm was almost buried in sand – also the house that was being built. The farm was temporarily abandoned – a farm leased at Mangalo until the soil regenerated.
In 1921 the family moved to Cowell until a house became available at Elbow Hill. I don't know the exact distance but I estimate that Elbow Hill was 5 – 6 miles NNE of the Zephyr Farm at Carpa. This really was a smart move – Elbow Hill was on the main highway between Pt. Augusta & Pt. Lincoln.
At Elbow Hill there was a primary school, 2 churches – Methodist and Church of England, a store, a hall, tennis courts and a football paddock. The Mills' house was approximately a kilometre from all of these so no transport needed for school, Sunday school, church, dances, tennis or any other entertainment in hall or school. Football was even better. We just had to get through the boundary fence and we were there.
Richard would go to the farm on Monday mornings, camp there for 2 nights – home on third night, back again next am and home on Friday nights for the weekend – a graziers life a bit different to that of a farmer! So much so that when one of his grandsons, Andrew, was asked what he was going to do when he grew up he replied "I want to be like Grandpa and ride around on a horse all day". Of course it was not quite as easy as that.
Cows, goats, pigs & calves were kept in the Elbow Hill house area. Cows were agisted nearby and brought home for milking – milk separated and skim milk fed to calves and pigs – cream was sold and picked up at the door by a passing truck on scheduled days. Dad and the boys milked the cows (when dad was home). Joan or one of the boys turned the separator.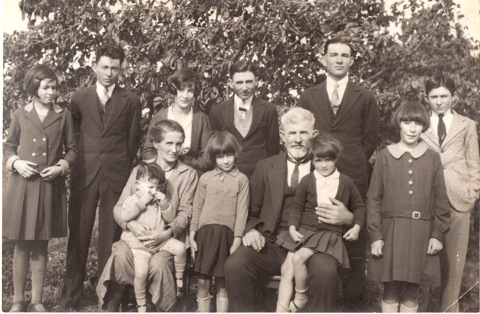 The Mills Family at Elbow Hill
Back: Margret, Bill, Joan, Ric, Doug, Jack
Front: Bessie, Barbara, Bunnie, Richard, Kim, Helen


Barbara was a superb manager – her text was "If we all do our share there is leisure for all". When home dad was the first up, calling us on the way to lighting the fire in the kitchen stove and putting the porridge on to cook. We all had our tasks, varying as we aged – someone knew they had to help the little ones dress – someone to set the table – to make the toast etc. Breakfast was at 7am – everyone started together – after grace was said younger members sitting on a long form on one side of the table – older members on chairs on the other – dad at one end of the table – with the toddler in the high chair at his side – mum at the other. Always a cooked breakfast as well as porridge & toast and of course tea! We all drank tea – the little ones ¾ milk. We didn't take lunch to school – ran home for it – always on the table for us and quickly eaten to get back for some playing time before school resumed.
Elbow hill school was a one teacher school – in my day approximately 14 or so pupils. For most of the time we had excellent teachers – from Grade IV to VII I had a Mr. Hausler – during his time there, eleven pupils sat for Q.C. and 6 of them gained bursaries for High School – (an allowance of £1.0.0 a week for board and free books and school fees). Doesn't sound much but remember a man's wage was approximately £5.0.0 a week. Helen and I were recipients and went to Woodville High where we boarded with an Aunt, Uncle, a 5 year old and Grandma Hogg.
We were a healthy family and I only remember Joan's Polio-militias as the occasion when a doctor was warranted and Jack falling out of a tree and breaking his arm on the first day of the school holidays much to his disgust! We were never short of food – though I think there was a shortage of fresh fruit – this was counter-balanced by half cases of dried fruit. Usually apricots & prunes and occasionally (Oh Joy, Oh Joy!) peaches and nectarines obtained through Mum's brother Eustace, who had a fruit block at Barmera. Water was always treasured – had tanks and an underground tank. There was reticulated water too – quite good stock water though a bit salty for some vegetables. Always plenty of meat – a sheep killed every few days – poultry frequently eaten. Not much pork – pigs used for bacon & ham. Occasional young steer killed. Frequent fish and sometimes a good catch of crabs.
The fish – when conditions were right the young men of the district would go night fishing at Port Gibbon with their wheat bags, knockers, spears and carbide lights they would wade out into the sea. The fish would swim into the light path and be knocked or speared. I have known them to catch a wheat bag of fish. They would stay overnight on the beach, around a big fire and return in the morning, distributing the fish throughout the district. Very occasionally some of the fish were smoked – Dad had a trench covered over with a tank cut in half lengthways – a fire was built in the trench, fish were hung from the tank and smoked – a way of keeping the fish for a bit longer.


Port Gibbon in the 1920's
Bill, Joan, Jack, Ric, Doug & Margret

When a ketch came in for the wheat the young men of the district would all hasten down to Port Gibbon to lump the wheat from the stacks & Lachlan would have shown you slides of the jetty – the 'truck' that was used. The 'truck' was pulled back to the stacks again by a draught horse – if the 'truck was returning from the jetty with a load of super the men would push behind it – helping the horse with his uphill load. Port Gibbon was a very important place in our lives. Every summer we camped down there for 3 weeks – in the goods shed if it were empty – hessian partitions separated the families – a big trestle table in the middle of the room provided the venue for meals. Meals were cooked outside over open fires and in camp ovens. Mum was a 'dab hand' at camp oven cooking – well I remember the beautiful roasts and cakes. One of my siblings said she remembers smelling scrambled eggs for breakfast after an early morning swim – or more accurately paddle. The jetty provided shade on the beach and all families had their rugs spread out, moving the rugs as the shade moved. There were two rope swings tied from the railing on the jetty – so you can imagine what height you could swing.
Households those days were run to schedule on work days. Mondays always wash day. On Sunday afternoons beds would be changed, sheets top to bottom – the bottom one to the wash – the children would collect long branches of dried mallee from the scrub over the road and drag them home. There were two coppers and sheets would soak overnight in them. Coppers lit first thing and water bought to the boil – from there transferred to the first wash trough, through the wringer, then to rinse again, through thee wringer to the 'blue' water – made by a block of Recketts blue (tied in a cloth) and again through the wringer – then out to dry on the cloths lines. We always had a washing machine – hand operated – the first one I remember was a plunger type, heavy to use. Men's clothes soaked in it overnight and usually by dad or one of the boys early in the am.
Enough of work though – just thinking about all that working makes me tired. Lets talk about relaxation. The oldest of the children excluding those who were working did the dishes after the evening meal, usually three – one to wash, one to dry and one to put away. Mum would be putting the little ones to bed – after reading a book to them. Dad by the fire, nursing two or three, and telling them stories – ones he remembered or ones he made up as he went along. School children did their homework, if any – then out would come the games, the books and the cards. One thing we loved was a kaleidoscope – it stood on the table, hade a revolving plate on the bottom and we would put little things on the plate – look down the stem with the prisms in it and get the most wonderful patterns. It was given to Joan by an Uncle when she first had polio and we all loved it. A lot of the games we played were educational – like word making, word taking played with letters that we had from sheets of letters obtained from school and costing a penny a sheet. Cribbage was also popular – also sevens and Coon Can – a simple form of Canasta. Little ones in bed, Dad would be looking for three more bridge players – Auction bridge of course – a very simple version of today's Contract and/or Duplicate.
Much more could be told. Too soon these days were over, and the family grew up and went their own ways. In 1934 or 35 we moved to Myola – I was away in Adelaide at Woodville High then – much changed, some stayed the same.
To all of you I say, "You are very fortunate to have Joan's and May Mills family history. I know I am."

Margret Warren