Horace James Page 1857 - 1936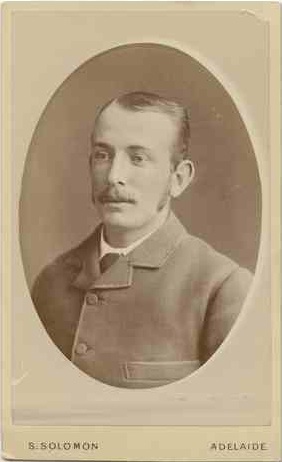 Photo taken around 1893

Horace James Page (HJP), uncle to Barbara Mary Mills (nee Hogg).

HJP was born in September 1857 in Queenstown, South Australia, to James Page and Susan Elizabeth (nee Allen). He was the fourth of nine children and the oldest son. James and Susan had three sons, Horace James (1857 – 1936), Ernest Henry (1859 – 1970) and Haldur Alfred (1868 – 1888). Ernest Henry died at the age of 11, Haldur Alfred died at 20 years of age but had never married nor had any children. Horace James married at the age of 57 but had no children so the Page name in this branch of the family ended with HJP's death in 1936.






HJP attended St Peters Boys College as a day student from the age of nine to sixteen.

At the completion of his schooling, HJP undertook further commercial studies and then reluctantly agreed to work at his fathers business, "Cleland, Page & Co." at Port Adelaide.

HJP loved the outdoors and his dream was to join one of the inland exploration parties; he hated being confined to an office. To please his father, Horace remained in the office until his early twenties, and then made a decision, business life was behind him, he was going inland. In vain, James, his father, tried to talk Horace out of it and offered to arrange to have him included in a small Government exploration party, and to hold an office position open until he returned. To this Horace agreed. No doubt his father privately hoped that the harsh realities of inland Australian life, as opposed to the stuff of dreams, would put a different perspective on things. But he was doomed for disappointment. Apart from the Boer War years and occasional short periods of work in the Pirie Street office of "Page and Son", the Australian inland was to become Horace's beloved home for nearly 30 years.

When funds were low Horace took temporary Government appointments, occasionally acting as Paymaster to groups along the telegraph line from Alice Springs to Oodnadatta. This entailed riding a camel from group to group, handing out pay and collecting documents, etc.

From around 1874 to 1882, Horace undertook further commercial studies and then worked in the Port Adelaide office of "Cleland, Page & Co."

In 1883, Horace commenced employment with the Government of South Australia as "Assistant Sub Inspector of Rabbit Districts" on the West Coast of South Australia, where he remained for 15 months. He worked in the area from Port Lincoln to west of Penong.

Sometime between 1883 and 1891, HJP spent 5 years on the construction of the railway line from Hergott (now Marree) to Oodnadatta. He also had 2 years as head clerk on the Blyth to Gladstone railway line.

In 1894 and1895, HJP spent a couple of years prospecting on the Western Australian goldfields.

In 1896 HJP, single handedly, walked a string of five camels from Coolgardie in Western Australia to Lake Harry, 28 miles north east of Hergott in South Australia. He left Coolgardie on the 12th of February and spent 105 days walking the 1,424 miles. For nine tenths of the time he did not see a white person. The camels were owned by the Government of South Australia and had been lent to a Mr. Moseley for exploration purposes. (See Trove article)

HJP returned to Western Australia shortly after completing his trek from Coolgardie to Lake Harry and continued prospecting.

In early 1898 Horace was employed by the Government of Western Australia as the Chief Rabbit Inspector to inspect the incursion of rabbits into Western Australia from the east. He worked in the Israelite Bay, Dundas, Norseman & Eyre regions of Western Australia. As part of his job, Horace was to recommend a location for the erection of a "vermin barrier fence". By the time the Government got around to building a fence the rabbits had moved to the west side of the fence and consequently the fence was of no practical use.
(Links to Trove articles)

In late 1898, after three months in the South Australian Militia, HJP joined the 3rd Bushman Contingent, bound for the Boer War in Africa. This contingent of 99 men was to become known later as the 3rd South Australian Citizen's Bushman Contingent, as it was funded by public subscription from the South Australian people.



The contingent departed South Australia on 7th March 1900 on the boat "Maplemore" & returned to Australia on 25th June 1901 on "Morayshire".
HJP's rank was Trooper, until 16th Oct 1900, when he was promoted to Orderly-Room Sergeant.
The contingent was lead by Captain Samual Grau Hubbe, who was killed in action at Ottoshoop on 12th September 1900. Then Captain A.E. Collins took command.
The contingent suffered 3 casualties, including Hubbe, but lost no men from disease.

In 1902 HJP formed part of an exploration party, lead by Mr. H.Y.A. Brown, to inspect and report on the Arltunga goldfield in the MacDonnell Ranges, Northern Territory. The party also examined the country between Barrow Creek, Tennant Creek and the Queensland border. The party consisted of HJP as assistant leader, a camel driver and eight camels. (Trove article attached) During this journey HJP wrote to Lester Hogg, his nephew. A PDF copy of this letter is attached.

1903:
On page 310 of "From Whence we Inherit" by Joan Jenkins (nee Mills), Joan writes "Horace made some interesting mineral finds but never became, or wanted to become, a wealthy man. One person told me that he located one of the main gold lines and was presented later with an embossed scroll by the early community of that centre, but as no verification of this story has been found it may or may not be true."
Whilst we have no evidence that HJP discovered gold, there was in fact an embossed scroll presented to HJP by the people of Winnecke's Creek in the Northern Territory, but the scroll was in recognition of his services in the establishment of a postal service to the small outback community.
(see Scroll)

Around 1905, HJP returned to Adelaide and worked for "Page & Son" in Pirie Street.

In 1910 HJP traveled with an outfit, led by Mr. Tom Creer and included seven camels. They followed along the telegraph line from Alice Springs to Teatree Well, Mount Denison, and the Leichardt and Lander Rivers. They reached Tanami on 21st May 1910. (seeTrove article)


In 1915, at the age of 57, HJP Married Clarice Mary Amelia Fydell Lindsay at St. Andrew's Church, Walkerville, by the Right Rev. Bishop Wilson

In 1936, at the age of 79, Horace died at Victor Harbour, South Australia and is buried in the Victor Harbour cemetery.

Written by Horace James Page's family descendents with extracts from "From Whence we Inherit" by Joan Jenkins

Further Reading:
Page 296, "From Whence we Inherit" by Joan Jenkins