"Zephyr Farm" Centenary Plaque Unveiling
Carpa 14th August 2011

Bruce Mills
Welcome
Thank you to Jon & Leonie Mills for their enthusiasm and co-operation in placing this plaque here, and thank you to Brian Mills for securing this beautiful stone.
Other thank you's to Graeme & Sally Tonkin for gathering the family together and setting the date. To Alan & Jan Zerna for organising accommodation, dinner last night and lunch today.
We miss not having sister's Margret & Lysbeth (Bunny) with us today, unfortunately they are not fit enough to travel over from Strathalbyn & Adelaide but we are graced with the presence of my two sisters Isabel and Bessie.
Now I will endeavour to give you a brief history of the first Mills family to occupy this farm, that of Richard Surguy and Barbara Mary henceforth referred to as Dick & Barbara.
In 1909 Dick and his father, the Honourable W.G.J. Mills came to Eyre Peninsula in search of land for Dick to settle on.
Setting out from Cowell they toured the district with a surveyor in a buggy drawn by two camels. I assume they were inspecting land still owned by the government or land having been returned to the government by default.
Family finances would have been restricted, for although Dicks farther was a Legislative Councillor and owned a valuable property "Millbrae" at Native Valley, he also had a large family to treat equally.
They settled for this farm, a partly developed block with shed and underground water tanks, with some fresh water available in shallow government wells in the adjoining beach sandhills.

Site of the Government fresh water well

Dick came to live here soon after and set about improving the farm and planting crops etc. He had attended Roseworthy Agriculture College. He also partitioned off one end of the shed for living quarters in readiness for his marriage to Barbara Mary Hogg which occurred at Mitcham on the 28th February 1911 (100 years ago).
Not long after, Barbara came to live they named the farm "Zephyr Farm".
Now Barbara was a city girl, brought up in a nice home, educated at Miss Thornbers School for Young Ladies. She also taught there for a while before becoming a governess for a well to do family.
Imagine the shock for Barbara coming to live in a tin shed on a dry dusty farm in late summer! But Barbara was made of stoic material and reared the first five of her eleven children on this farm in that shed.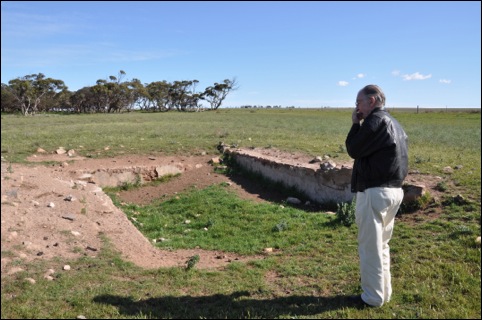 Site of the Tin Shed House

Sometime prior to 1919 Dick had started to build a new house, carting stone from the hills. Most of the walls were erected when dry times struck. A neighbours paddock on the west side was fallowed and a fierce wind drifted the sand over the boundary and up against the new walls. This was possibly the 1918-19 summer as Horne's property "Morley" only averaged 3 bushels to the acre that season.
Incidentaly "Morley's" wheat average from 1912 to 1918 was 8.4 bushels'. "Morley" was better established, better soil and rainfall. How did they exist on those figures?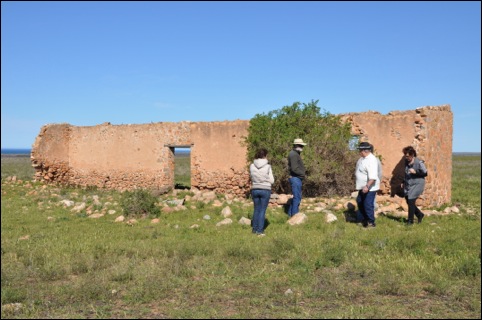 The 'New House"

I think in 1919 Dick leased a farm at Mangalo and moved his family out there to live in a house near the school.
After one or two seasons came another move to Cowell and Dick worked "Zephyr Farm" from there. Another two children were added to the family, Margret while at Mangalo in 1920 and Helen at Cowell in 1922.
Dick and Barbara secured a house at Elbow Hill a few hundred meters up the road toward Cowell from the store. Hall, church and school., and Dick continued to work "Zephyr Farm" from there. That move was before 1925.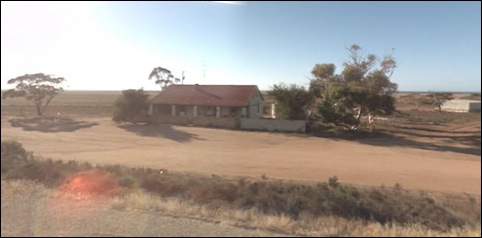 The House at Elbow Hill as it is today

In 1928 Dick went into partnership with Gilbert (Gib) Ward on a pastoral property west of Whyalla.
In 1032 Dick & Barbara relinquished ownership of "Zephyr Farm" which returned to the mortgagees, Dicks parents, W.G.J & M. Mills and purchased the pastoral property in their own right and named it "Myola".
Before a family move could be made, a house had to be built as there were only four iron rooms at "Myola". Dick, with his two eldest sons, Rick and Doug went to work at "Myola". Bill was left to caretake "Zephyr Farm" for his grandparents. Jack the fourth son, at school leaving age helped out when and where needed.
The family move to "Myola" was made in late 1935. In the years that Dick and Barbara lived at Elbow Hill four more children were added to the family. I, Bruce the runt of the litter and last, arrived in 1932.
By the time Dick & Barbara and family moved to "Myola" there was a new Mills owner for "Zephyr Farm". To tell you that story I hand over to Jon Mills.

For a wonderful vision into what life was like for Dick and Barbara, read this extract from Joan Jenkins book: